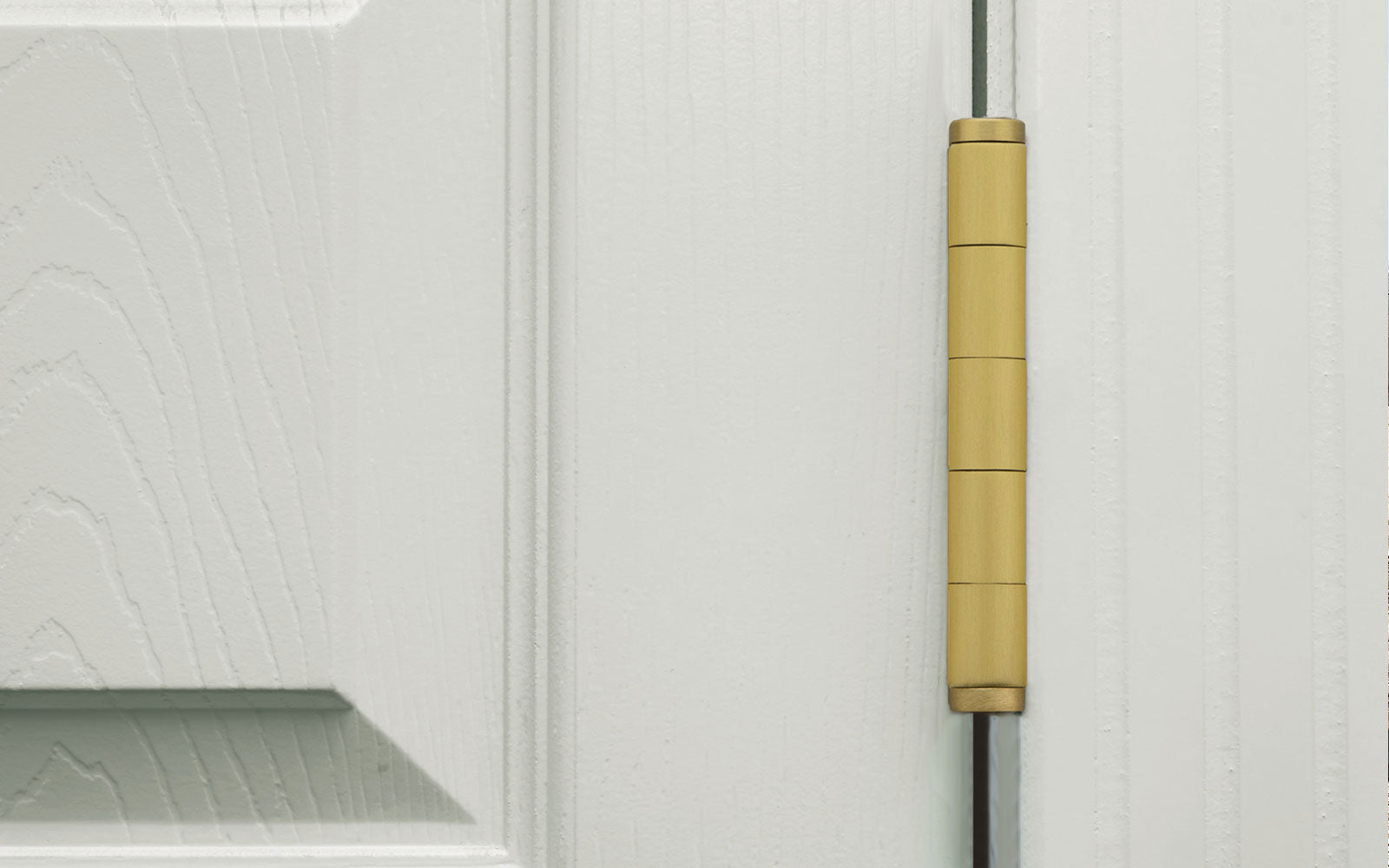 Hinges are a key component to any home design, although often overlooked. Door hinges are an excellent opportunity to add character or cohesion to any home. Our Viaggio hinges are the perfect blend of luxury and function. Our carefully crafted hinges bring durability and strength to interior and exterior doors. Learn about our quality brass hinges and how to choose the right hinges for your home.
Benefits of Solid Brass
Door hinges made from solid brass are incredibly sturdy. Brass is a tensile metal, meaning it can bend. Brass is used in bearings, valves, and moving parts because it can flex but not break easily. Its flexibility and durability make brass the perfect material for sturdy hinges.
Brass has excellent corrosion resistance, making it unlikely to rust and last much longer. Brass has been used in household building materials for years. Brass hinges, fasteners, and door knobs significantly upgrade your home — not just in style but in function.
Hinge Type and Application
Our solid brass hinges are butt hinges. Butt hinges are excellent for sustaining weight, which works best for interior and exterior doors. Our hinges have a fixed pin, so the pin cannot be removed to disassemble the hinge. Fixed pins are more secure because the door can't be opened by simply removing the pin.

Many hinges are mortised, meaning they're inserted into a part of the door frame carved or cut out that allows the hinge to be mounted flush with the jamb. Before purchasing any hinges, it's best to investigate your current door jamb to find which hinge fits best.

Our hinges come in residential-grade and commercial-grade styles. Commercial-grade hinges have a thicker metal gauge — that works well for heavier doors. Residential door hinges work best on your home's interior doors because the metal gauge's thickness is thinner. The thinner metal allows the door to fit snugly in the jamb.

To help you better determine which hinges work best in your home, please reference the chart below.
As far as placement of the hinges, the top of the top hinge should sit 5″ below the top of the door. The bottom of the bottom hinge should sit 10″ above the floor. The applicable third hinge should then center between the top and bottom hinges.

When replacing existing hinges, pay attention to the size of the hinge, the corners, and the existing screw pattern. Our 3.5″ hinges have a three-hole arc screw pattern. The 4″ ones have a four-hole staggered screw pattern. The 4.5″ ones have a four-hole template screw pattern and are only available with square corners and heavy-duty weight.
Viaggio Finishes
Viaggio premium hinges have made an excellent addition to our luxury hardware line. All of our solid brass hinges come in various finishes — perfectly matching any home!

Satin Brass has been a trendy finish for home hardware in recent years. Not quite as shiny or reflective as polished brass, the lacquered finish lends a subtle sophistication attuned to contemporary decor. The brushed satin finish almost gives the appearance of gold. Using gold hinges can add a sense of warmth to any space.

Our Satin Black finish is ever-trending and eye-catching. Black door hinges can add just the right amount of subtle contrast to any door. Pair black door hinges with black screws, and the black-on-black look gives a modern impression.

Satin Nickel is a prevalent choice for homes. The subtle brushed finish creates an ultra-fine texture but is still very smooth to the touch. Satin Nickel hinges are a classic choice for any door, and you really can't go wrong.

Bright Chrome finishes add a modern touch to any design style. The reflective finish goes with any door while adding a touch of sparkle. The chrome finish is easy to clean,resists corrosion,, and has an increased surface hardness — ideal for high-use doors.

Titanium Gray is a unique choice for door hardware and can add an elegant element to any style. Different gray tones are common throughout contemporary styles. Our darker titanium gray has a modern feel while still being very approachable.

Upgrade Your Hinges Today
Changing out your existing hinges for solid brass hinges is a simple way to improve your home. Quality hinges help any door function better, and with our finishes, they can add some style too!
With our ample assortment of hinge variations, we are sure you will find the right hinges for your home.