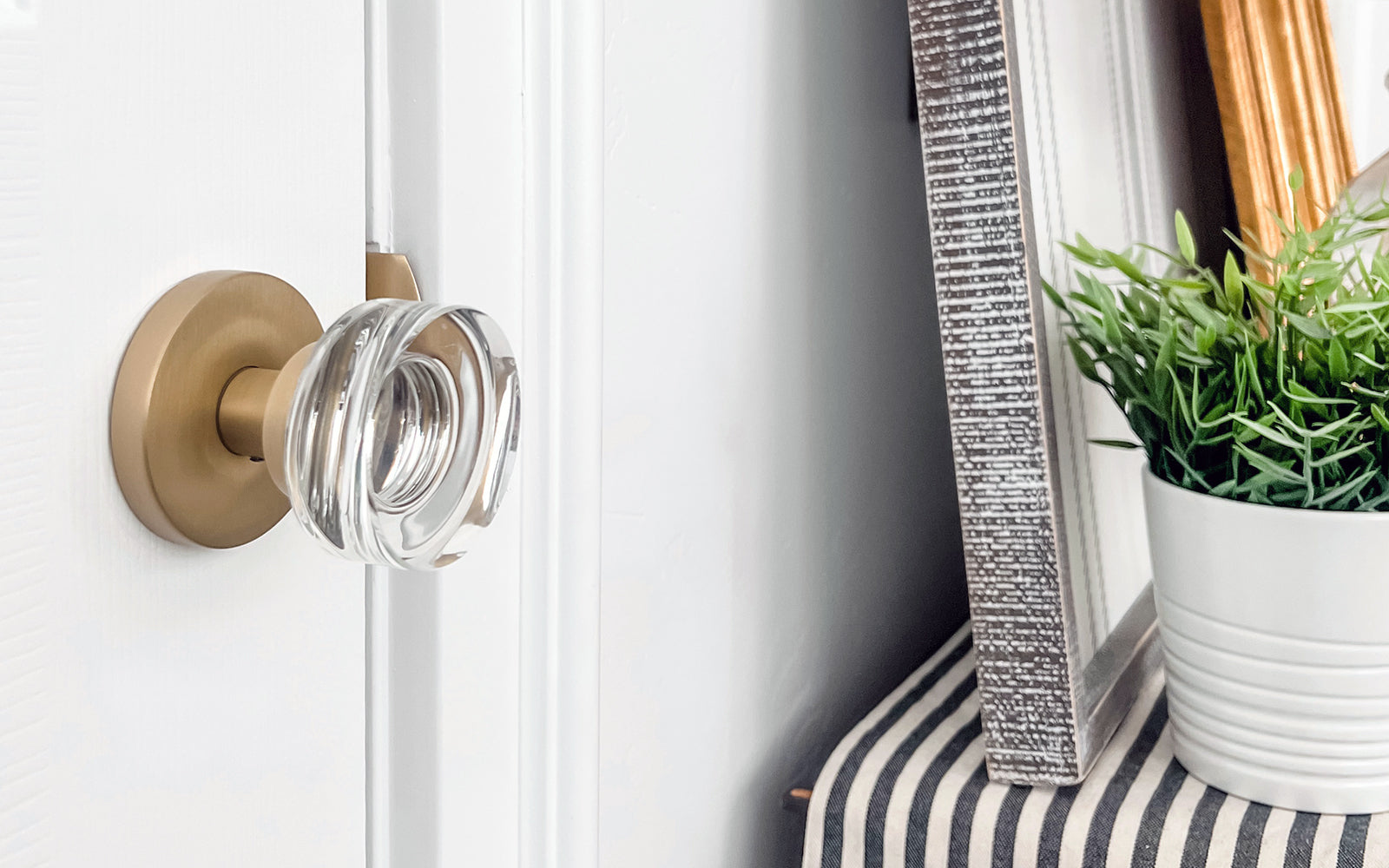 Amy Wilson Designs
is the Instagram showcase of designer Amy Wilson. She recently updated the door hardware in her modern cottage home with some
Satin Brass and Crystal beauties
from Viaggio. Read on the see the hardware and learn more about Amy's design details.
Please give us some more details on Amy Wilson Designs. How did you develop it, and what sets it apart from the rest?
I created Amy Wilson Designs 30 years ago after graduating with a degree in Fine Art and working at a University decorating and floral shop. As a mother of five children, I took time off for my family for 15 years and restarted my Home Decor business online in 2018. I have a very unique design sense shaped by years of experience on different types of projects and budgets.
Did you do a remodel on your entire home? If so, were there specific rooms that were more challenging than others? Why?
We remodeled most of our main floor, including the kitchen, living room, dining room, family room, and entryway. The family room and kitchen required the demolition of walls, but the larger space has been well worth it.
How did you choose the hardware featured in this project? What attracted you to Viaggio Hardware?
I searched for door knobs on Instagram and immediately fell in love with Viaggio Hardware when I saw the pictures. Getting the knobs in the beautiful blue boxes was a real treat.
Will you use this hardware again in other projects? If so, why?
We didn't replace all our knobs and would love to complete the remaining doors with Viaggio Hardware.
Did you learn any tips and tricks about door hardware that would benefit others?
My husband is not an install expert, but once he got through the first knob, he was able to install the knobs with ease. The entry knobs were a little more complicated, but the instructions were very helpful.
What is your design style, and how do you incorporate those decorating decisions within your home?
My design style is modern cottage/farmhouse, and I strive to maintain a consistent look in both homes. Viaggio Hardware knobs are perfect accents in our modern cottage home.
When starting a project, how do you organize and plan for it?
I am very visual; I sketch out my plan in advance and then improvise as I style various rooms in my home. I have closets full of decorating materials and collaborate with multiple companies that provide the latest designs in the marketplace.
Many people want to take on large remodeling projects. What are some recommendations for readers who wish to do an extensive remodel project?
Set a budget. Get the right contractor unless you have the courage and patience to act as your own general contractor. Building respectful relationships with the subcontractors is crucial so they will be timely and do quality work. We were fortunate to have our son-in-law take the project lead. Work on the house in phases rather than all at once, so you still have places to eat and sleep. Life was a little challenging for our dog, especially during the demolition phase, but he was a trooper.
What are some tips for readers who wish to make a transformation in their home?
Work with professionals and take their advice but do what you want to do at the end of the day. You have to be happy with the final product, and if you don't have the final say, you might be disappointed. We trusted many subcontractors and made tweaks where we knew something would work better for us. We love our 10-foot kitchen island as an example.