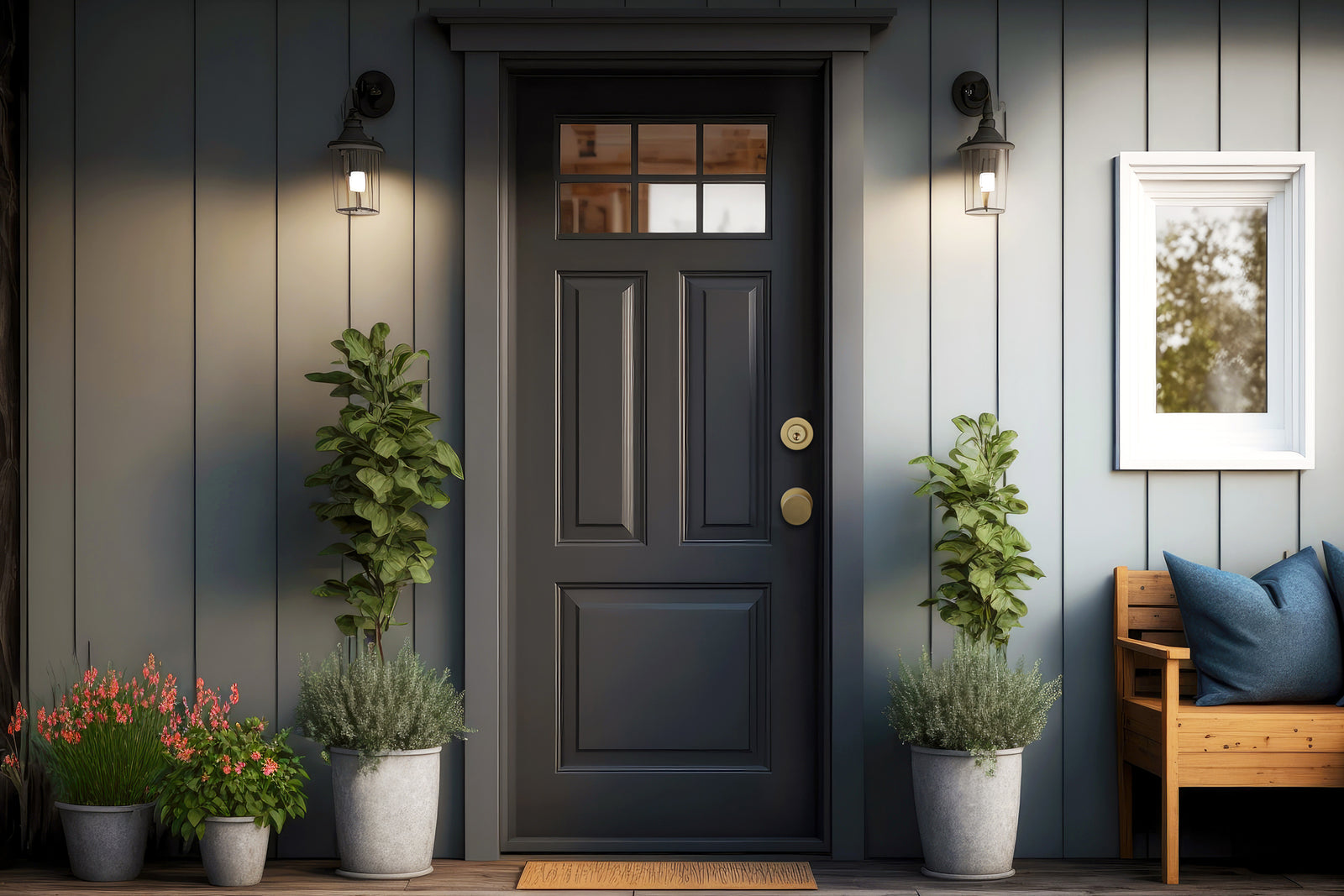 Paint Your Door
Painting your door is a quick and cost-effective way to add color to your home. It typically costs less the $75 and is a simple way to make a statement.
Before committing to a color, pick up some paint swatches and some sample colors. Paint small samples or tape the swatch to your door to help you determine which color will be right for your home.
Add Some Greenery
Adding potted plants to your front porch is a quick way to brighten your home. Consider something simple, like mums or lavender. Both are easy to care for and are good for the bees.
For something a little more elevated, install planter boxes under your windows. The added boxes add visual interest and are a classic look on any home.
You don't need to go all out with landscaping, but there are at-home projects that are relatively cost-effective. Add metal edging throughout your yard to create landscape barriers for drought-resistance plants. Use mulch to help save on water, and it helps add dimension to your front yard. For more information on water-saving landscaping, check out this blog on xeriscaping.
Do your best to take good care of your lawn. A green lawn goes a long way in improving curb appeal and making your home look beautiful.
Clean and Pressure Wash
Rent a pressure washer to give the outside of your home a vigorous cleaning. You can use the pressure washer on many surfaces – including outdoor furniture!
Wash your walkways, fences, gutters, driveway, and anywhere that looks like it needs an intense cleaning. You may need to use a degreaser on your driveway to remove set-in stains.
When using a pressure washer, be sure to use the weakest setting first and work your way to the strongest one. This helps avoid any damage to surfaces.
Replace Door Hardware
Replace existing door hardware for a quick curb appeal upgrade. If you've painted your door, choose a finish that contrasts with the door for added visual interest. Our luxury hardware comes in many different finishes, and we are sure to have a finish that perfectly matches any door color.
Our modern entry sets are sure to make a stunning first impression. Add a bold touch with our Quadrato Rosette Entry Set with Quadrato Knob in Satin Black. The clean square edges add a hint of contemporary style to any door.
Our Circolo Rosette Entry Set with Circolo Knob in Satin Brass adds glam with the brass detail but is modern enough to still feel like a contemporary style. This set will certainly make a beautiful first impression.
Add Curb Appeal to Your Home
Improving your home's curb appeal could be completed in just one weekend. These DIY projects are simple and cost-effective.
Need more inspiration for upgrading your home? Check out our blog on how to mix hardware finishes.